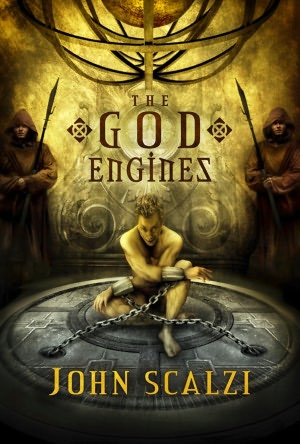 The God Engines is a personal story of faith gained and lost that is so visceral and so cool, you'll be bummed that Scalzi chose to limit this story to a novella and not a full-blown novel.
What if you lived in a world where science has been lost and in its place unruly and deceitful gods ruled? What if your immovable faith could cause a god to move a spaceship between planets and stars?
Captain Ean Tephe is a man of faith. His faith in his Lord is strong, so strong he has been given a special task: to bring into the fold of his God heathens with no faith. These heathens gladly give their faith at the chance to gain the Talents He might bestow upon them, but Tephe's God has other plans for them and when Tephe find out what that is – his faith is shaken and so is his world.
This is a powerful story that explores what faith means to creatures we might call gods, and what power the act of faith holds on us all. The allusions to reality are not lost in Mr. Scalzi's science fiction thriller. He makes this atheist hanker for the chance to live in a world where gods fight for our faith and we can withhold it - at everyone's peril or salvation.
Highly recommended.